Extract from the Human Rights Commission website: © Australian Human Rights Commission [modified for AS 1428.1:2009]
ISSUE 14:
Doorway circulation space
Importance of the feature
Doorway circulation space is a critical design and construction issue for people who use wheelchairs or scooters, especially for swing doors.
A person using a wheelchair has to be able to reach the handle and there has to be enough circulation space for the door swing plus the spatial area for the person in the wheelchair. Once the door is opened, of course, the person has to be able to manoeuvre through the doorway.
Below is an example of an approach someone using a wheelchair might typically make to opening a door. Note that in order to access the handle and open the door a number of circulation space requirements need to be met.
Diagram 1 shows just one example of circulation spaces requirements around a door [for 80% of wheelchairs].
See section on Code Requirements below for information on other examples.
The issue of opening doors with door closers is significantly more difficult for people who use a manual wheelchair as they have to counter the force of the door closer while holding the wheelchair in a steady position. For people using a powered wheelchair there is often a problem of limited clearances due to the position of the joystick control box which is generally the first obstruction to the swing of the door.
The issues concerning doorway access are further exacerbated by incorrectly installed doors and in the case of airlocks inadequate provision of area between two doorways and the swing of each door.
The relationship between doorways, corridor widths, circulation space and positioning of doors and door hardware requires careful consideration of relevant technical specifications. If those specifications are not effectively applied circulation around and through doorways can be severely hindered.
Where doorway circulation spaces do not comply with the deemed-to-satisfy technical requirements the most common alternative solution is the installation of automatic doors or push button powered door openers.
Code requirements
The Building Code of Australia (BCA) D3.2(c)(iv) and D3.3(c) are relevant to doors where it refers to and requires compliance with AS1428.1.
AS 1428.1 specifies technical details such as dimensioning and design criteria in section 7 and provides twelve different scenarios of doorway approaches and doorway operation for swing and sliding doors in Figures 12 and 13. For example, the one given below which provides dimensions for a hinge-side approach where the door opens away from a user.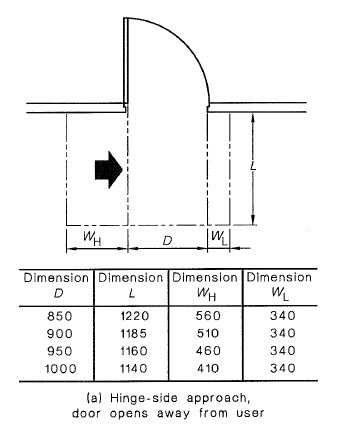 Achieving best results
To provide effective doorway circulation space the design should provide adequate corridor width to accommodate; nib walls on each side of the door plus the correct door width to achieve 850mm minimum clear opening width as set out in AS1428.1 (850mm clear opening width for 90% of wheelchairs). This is achieved by ensuring:
Vigorous application of the technical requirements found in AS 1428.1 section 7 and in particular the relevant options presented in Figures 12 and 13 for circulation space and Figure 15 for distance between two doorways.
Nib walls on each side of the door are constructed to the requirements of AS1428.1, which include the door frames, plus the correct door width to achieve 850mm minimum clear opening width as set out in AS1428.1.
Allowances are made for wider corridors and doors where pivot hinge doors are to be installed.
Consideration is given to building materials to be used such as external face brickwork, feature sidelights and the like as they may cause a repositioning of the doorway and subsequent reduction in latch side clearance.
Allowance is made for wall coatings such as rendering, architraves and skirting panels.
Critical doorway and corridor setout dimensions are incorporated on construction drawings with appropriate building tolerances.
People who use a wheelchair report that the minimum requirements of AS1428.1 do not always meet their needs and hence the achievement of independent access is compromised. Wherever possible designs should incorporate doorway clearances above the minimum for best practice.
Common problems and misinterpretations
1. Design and installation
Photo 1
Photo 2
While in Photo 1 it appears that the approach to the door is sufficient to allow for a 510mm nib wall on the door latch side for a front-on approach the installation of the door did not allow adequate area for a latch side nib wall. As a result it may be impossible for someone using a wheelchair to actually access the handle and open the door independently.
In Photo 2, however, the door has been correctly installed with a 510mm minimum nib wall on the latch side with an 920mm door to achieve 850mm clear opening width.
2. Alternative solutions
Photos 3 and 4 below illustrate an alternative solution applied to an entrance door to an existing building where a ramp has been installed and the landing was too small to provide the required circulation space for the side-on approach to a door swinging towards the user.
Photo 3
Photo 4
Photo 3 shows the push button control and signage as the door is approached and photo 4 shows the door opened by the powered door opener which in this instance is held open for approximately 15 seconds.
Photos 5 and 6 below illustrate an alternative solution applied to a door to a unisex accessible toilet within an existing building.

Photo 5

Photo 6
Photo 5 shows the nib wall on the latch side is significantly less than the 510mm minimum required circulation space for the front-on approach to a door swinging towards the user. The push button control on the right of photo 5 is correctly located beyond the swing arc of the door. Photo 6 shows the door automatically opened to allow for easy access.