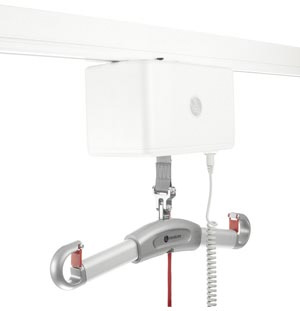 DESCRIPTION
The SystemRoMedic sliding aids and accessories assist with manual supine and/or sitting transfers of users, for example, from bed to wheelchair, from bed to bed or from wheelchair to toilet.
Easy Glide
Place the flexible three-part sliding board in front of the wheels of a wheelchair to protect against soiling. Easy to move smooth top surface provides for easy transfer while the double anti-slip tape on the underside prevents the
board from sliding during transfer. EasyGlide is available in two models and different sizes and in constructed of strong polyethylene, with longer models suitable for transfer from wheelchair to car.
MoveMaster
A unique open sliding mat with handles at one end, allows for pulling users in various transfers, such as moving them further up in bed. MoveMaster is perfect for using against bare skin when transferring to shower chairs or toilet. Also useful for moving from bed to wheelchair or cars. Thanks to easy grip handles very little for is needed for transfers.
EasySlide
EasySlide comes in 190" x 60" and 100" x 60" sizes and in mainly used for supine transfers- between beds and x-ray or operating tables, shower trolleys or stretchers. EasySlide can also be used to turn users in bed or on x-ray operating tables. The mat's inner surface is made with a unique sliding material, UFL (Ultra Low Friction), that reduces friction and allows for transfer on most any surface with a simple hand grip and with minimum strength.
RollerSlide
When height is an issue, or you can't get close enough to ensure safe transfer, we offer Rollerslide. Used for supine transfers, RollerSlide bridges gaps and moves with the user during transfer. Also made with UFL material, which slides around the board during transfer, RollerSlide provides a smooth transition for both user and caregiver.
LIMITATIONS
StandUp is a lift-chair that allows a caregiver to quickly, safely and easily assist a person lying on the floor, who cannot get up on their own. StandUp is compact and lightweight - half the weight of a portable mobile lift, operates silently and there is no assembly required.
Eliminate manual lifting when you choose a SystemRomedic™ceiling lift unit. Our ceiling lifts offer a stationary lifting solution, with a lift unit mounted on a ceiling rail system or freestanding rail system. We offer several options with different features, for just about any need or user with various lifting capacities and functionalities, for both permanent and portable installations.
For stationary lifting, our rail systems can be mounted on a ceiling or freestanding rail system, require minimum floor space and are easy to maneauver. Choose from permanent ceiling or wall installation, or portable freestanding lift stands.
These lifts roll on the floor offering the flexibility of moving from room to room. Mobile lifts are a great solution for temporary lifting needs - for areas where a ceiling lift installation is not an option. We offer several models with different lifting capacities and features.
Our lifting slings are available in sizes from XXS to XXL, with some slings available in XXXL and XXXXL, and can be used with SystemRomedic™ mobile lifts and ceiling lift systems, and may also be used with lifts from other manufacturerers.
PRODUCT DETAILS
http://101mobility.com/romedic-patient-lifts.php