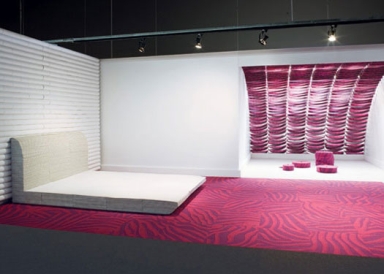 DESCRIPTION 
Inspired by nature in both colour and design, Interface carpets allow you to create uplifting, calming and beautiful environments that people feel comfortable and at home. Interface uses System 6+ which is rated commercial heavy duty by the ACCS. It is constructed with stain resistant Solution Dyed Nylon which delivers superior performance required by the rigorous maintenance demands of health and aged care environments. It can be easily cleaned by water extraction method, and if required, can be replaces with ease with limited downtime. 
LIMITATIONS
System 6+ offers 100% impermeable carpet flooring- tested, proved and third party verified. It is the only carpet solution for Aged Care environments  which offers complete imperviousness and ease of maintenance without excessive replacement costs
Healthier air guaranteed for the life of the product, Intersept is an antimicrobial which protects against 99% of all mould and microbial growth including fungi and harmful bacteria. It also minimises odours and actively protects against bio-contaminants. It is not topically applied and will not wash out.
Interface's dense loop pile construction traps airborne particles and allergens within the carpet for easy and safe removal. The premium dyed nylons do not break down into breathable particles and all carpets have extremely low VOC emissions. This is why Interface is the only commercially tufted carpet to have all products approved by the National Asthma Council of Australia under the Sensitive Choice Program.
Unwanted sound or noise is a major problem in aged care environments and it impacts patient and stall well being in many different ways. Interface products have achieved the right balance in delivering acoustic performance and dimensional stability- perfect for Aged Care environments.
PRODUCT DETAILS
http://www.interfaceflor.com.au/Projects/Health___Aged_Care/Aged_Care.aspx